Hello lovelies,
The title of this post may be a bit deceiving.  I am not expecting huge and grand things for Valentine's Day, but rather… I am expecting.  As in, at the end of May or early June, I will have to face my fear of childbirth.  I'm pretty calm about it right now, but let's see how it is when I'm actually at the birthing centre… BIRTHING.
Dress:  Banana Republic x Issa three-quarter sleeve wrap dress in black (2013)
Valentine's Day this year is going to be a bit of a challenge personally, because there aren't many pretty maternity pieces that I've seen that don't cost an arm and a leg.  And this is a rather sad state of affairs because nobody wants to spend $200+ on a dress that'll only be good for a few months.  If I were to splurge, it would have to translate pretty well to post-maternity, and this means avoiding figure-hugging maternity dresses –these seem to make up the bulk of maternity silhouettes– as one will be left with lots of limp and lumpy ruching in the mid-section when there is no bump to fill that area with anymore.  Alternatively, I could use those outfits as a snacking uniform, but I doubt my food babies will come anywhere close to utilising the space fully.
In that spirit, here are a few things that have caught my eye that I think would be perfect for Valentine's and as wardrobe chameleons…

Starting off with a gorgeous red wool coat by Kimi and Kai.  Red is the classic, hard-to-miss hue for the 14th of Feb and you will be a stand-out in this.  It has a beautiful collar detail, interesting buttons, and can easily become a coat with an elegant, swingy, voluminous bottom once your bump is out and in your arms!
To keep things from being overly sweet, wear this sleek lace black-'n-blush dress by Tiffany Rose underneath.  It accommodates your bump through stretch, not ruching details, and should be a fantastic choice for before and after.
Next, we have a lovely red lace dress with lots of texture in the pattern.  I would personally switch out the belt for a contrasting or complementary colour, so that it isn't so…red, but to each their own!
For a topper, my favourite is the trench coat, and I actually do have this one by Seraphine.  Trench coats are known for cinching in and defining the waist, and while I can't do that at my normal spot for now, cinching the tiniest spot between the boobs and the waist can help highlight whatever definition one has.  I know it helps me feel like less of a mono-lump.
The softest hue of Valentine's is pink, of course!  Here, this ASOS blush pink dress has artfully placed lace and see-through detail, front and back!  Bring the party on.
I like pairing trench coats with dresses, because it feels like you mean business about partying, and it's just such a sleek look.  Plus, who could say no to this maternity trench coat by ASOS?  They're not sponsoring me, but let's be real –I wish they were.  It would solve all my wardrobe problems right now.  Back to the coat, I love how swingy it is on the bottom –any flare you create by cinching in the belt will be much more dramatic than anything the straight cut of the Seraphine trench coat can give.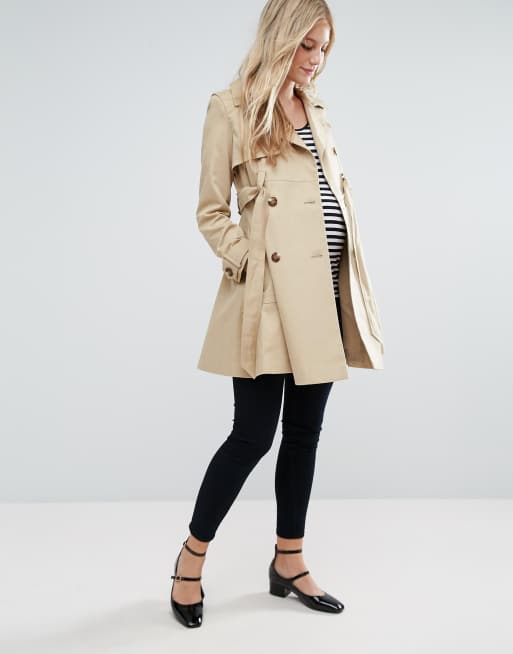 If you don't want to wear a dress, and just feel like something more relaxed yet still refined, cover those smashingly gorgeous pyjamas (or whatever happens to define comfort for you right now) with this Kim & Kai coat.  It's got a tactile texture and unique collar, but the silhouette is classic and ladylike.
Let's hear it for a pretty necklace shall we?  Of all the accessories available to a mum-to-be, nothing will be more versatile in terms of fit and longevity than a necklace, so splurge a little here!  I have had this Tiffany & Co. heart key pendant for four years now, and I'm still crushing on it.  Yes, it's close to $300, but you won't be wearing this for only nine months.  Plus I hear that the sight of a Tiffany box holds magical, mood-changing powers.  Sometimes, you really need that.

Shop the pretties here:

I'll be back soon with my Valentine's Day outfit!  In the meantime, what have you got planned sartorially for the V-Day/Me-Day?